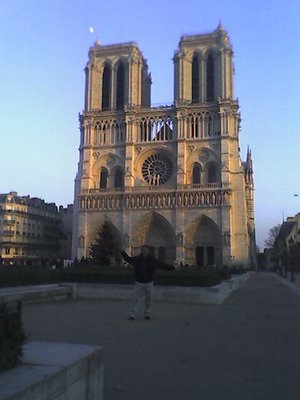 Bonjour from France.
Here I am in front of Le Cathedral Notre-Dame de Paris. But the mystery is to look closely to actually find me. Then look closely for the rising moon.
The pilgrimage to Paris was superb and relaxing. January is not the best time for tourism, so the city was mine for the asking. However, some chilly and cloudy mornings made it impossible to see much of this beautiful city. In this photo to the right, don't worry about not seeing the upper portion of the Eiffel Tower; it is covered in fog. And it was not a good idea to sip a cold drink at an outdoor cafe on the Champs-Elysses. But inside worked fine. And the museums!
See more photos on my Flickr site, the link is here just to the left on my blog page. Au revoir.